JENN-AIR A LEGACY OF LUXURY AND INNOVATION
Jenn-Air brand is known for luxury kitchen appliances that offer provocative design, innovative technology and exceptional performance. First recognized for creating the legendary downdraft cooktop and bringing convection cooking into the home, Jenn-Air brand makes exceptional appliances for the entire kitchen – from powerful, professional-style ranges to stylish, built-in refrigerators. This legacy of luxury and upcompromising innovation is reflected in our precision-crafted products, like the revolutionary Accolade™ downdraft ventilation system, or our line of Wi-Fi connected wall ovens featuring the intuitive Culinary Center, helping you achieve professional-level results. Our appliances offer you unprecedented performance as you cook and entertain. Because details matter to you, Jenn-Air brand will never settle for the ordinary when the extraordinary can be achieved.
THE OVEN YOU CAN CONTROL FROM ANYWHERE NOW WORKS WITH NEST

The revolutionary design of the Jenn-Air Connected Wall Oven, with dual convection and companion app, synchronizes with Nest to detect when you leave your home and even turns your oven off if you accidentally leave it on while you're away.

Now that's power in your hand.
Shop Now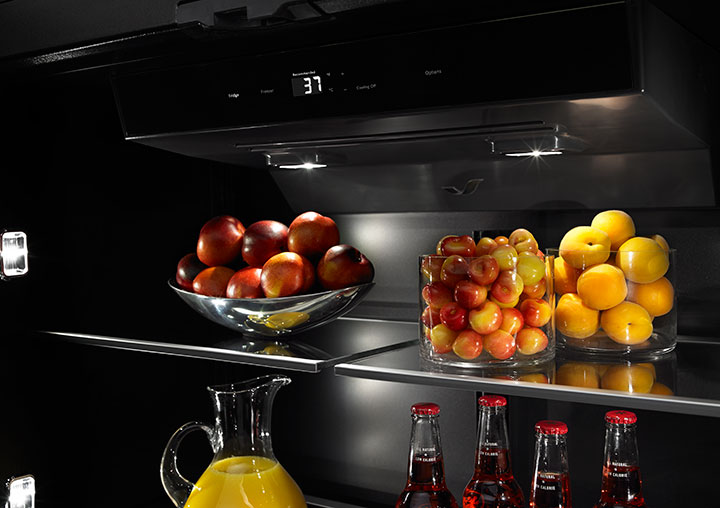 Exclusive Obsidian interior dazzles guests as food item colors "pop", even in matching crisper drawers and the freezer. Available only in Jenn-Air refrigerators.
Shop Now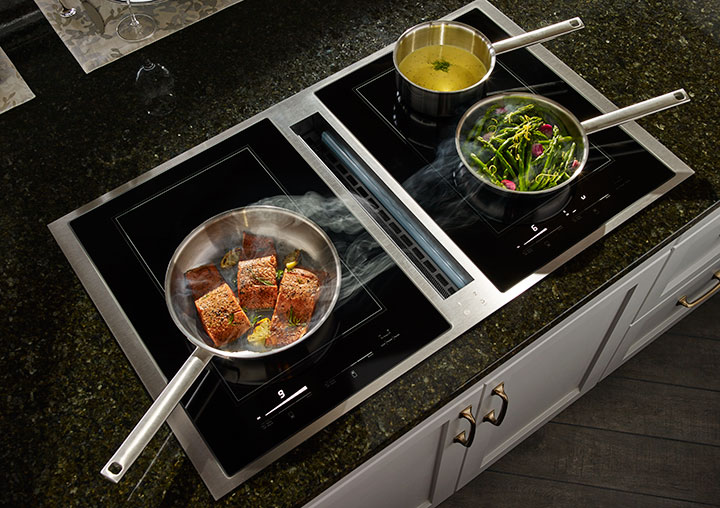 Keeping sight lines open while offering exceptional efficiency and flexibility, the Jenn-Air induction downdraft cooktop offers the cooking power of gas and the cleanability of electric while rapidly clearing the air of cooking vapors.
Shop Now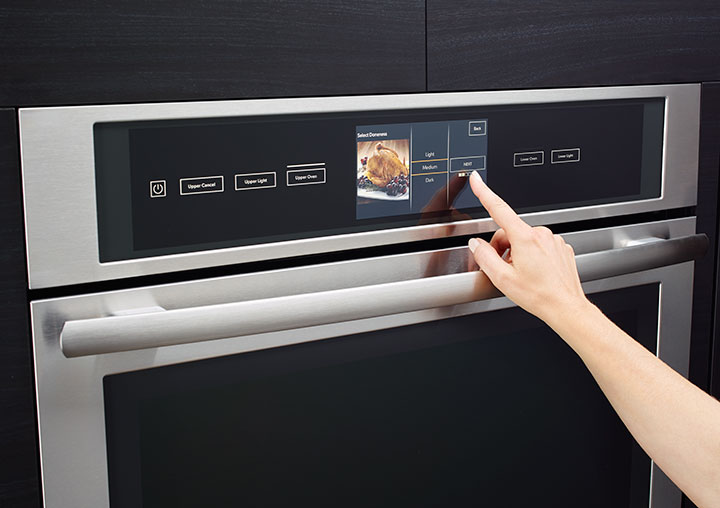 The Jenn-Air Culinary Center customizes each cooking cycle based on a variety of your preferences to create your perfect meal. Providing full-color pictures of foods, doneness levels and menu-specific cooking tips.
Shop Now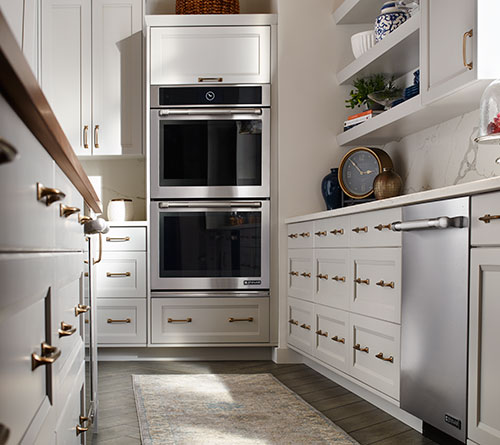 Your kitchen transformation begins with ground-breaking wall ovens featuring incomparable performance and a flush-to-cabinet design. Single, double or combination ovens available with two convection systems to choose from. Select models feature Wi-Fi connectivity and a fully functional app for iOs and Android devices. Steam and convection models create results that are nothing short of extraordinary.
Shop Now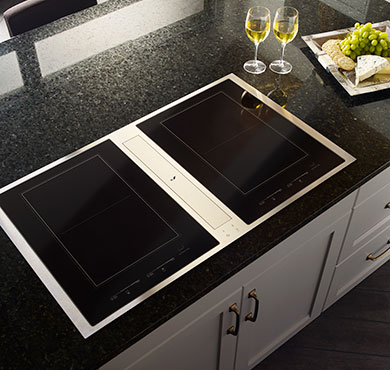 Jenn-Air is known for revolutionary downdraft cooktops uniting precision control with exceptional styling. Stainless steel gas cooktops with an extremely low-profile allowing near-flush installation and gas-on-glass models provide additional design options. Induction cooktops offer a new level of cooking performance and a fresh face of refinement for the kitchen.
Shop Now
Elevated style and performance are hallmarks of Jenn-Air refrigerators, and they've gone one step further with the exclusive Obsidian interior. Jenn-Air built-in refrigerators feature the integrated and flush configurations, freestanding options and a collection of fully flush, under counter models that provide convection storage options.
Shop Now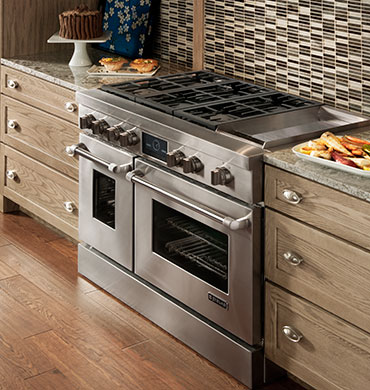 Jenn-Air ranges give you versatile performance and robust commercial styling in a variety of configurations. Choose from three different sizes of dual-fuel, gas or LP ranges, all of which showcase professional power and a convection system that helps you express your culinary creativity.
Shop Now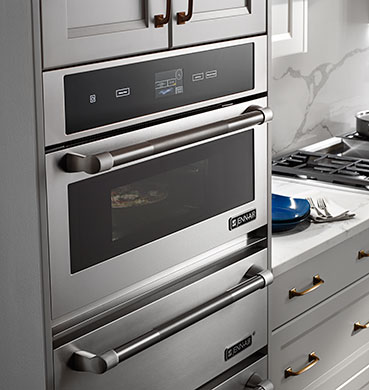 Jenn-Air microwave ovens are as versatile as traditional ovens. A range of cooking modes provides outstanding results - from microwave & convection combination cooking to auto sensor steam cook. With intuitive navigation and an assortment of styles, including built-in, drawer design, countertop and over-the-range, you can find one that fits perfectly in your kitchen.
Shop Now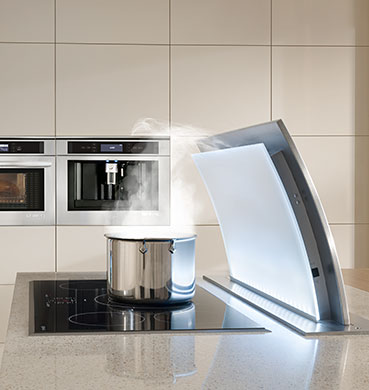 To maintain a fresh, clean environment, Jenn-Air ventilation systems target smoke, steam, heat and odors generated during the cooking process. Choose from a striking downdraft model that retracts into the countertop when not in use, sophisticated commercial-style hoods, or stylish wall-or island-mount hoods, featuring innovative perimeter technology.
Shop Now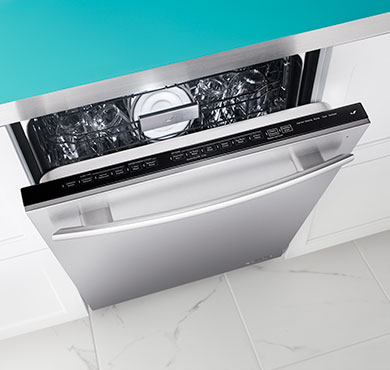 A dishwasher not only has to look beautiful in your kitchen; it needs to clean beautifully as well. Jenn-Air dishwashers feature the TriFecta™ wash system, providing exceptional cleaning performance, quiet operation and improved energy efficiency.
Shop Now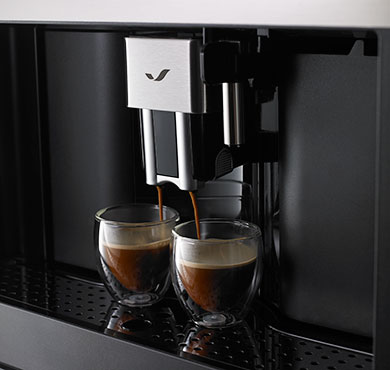 Enjoy cafe-style coffee - with or without a shot or two of espresso - in the convenience of your home. Brew robust coffees, incredible cappuccinos or rich lattes on demand, suited to your personal taste. The Jenn-Air built-in coffee system does it all.
Shop Now