CREATE MOMENTS WORTH SAVORING WITH SUB-ZERO WOLF
Your kitchen is where life happens. Where you share food, drink, conversations and confessions with the people you love. Why not make your kitchen the best it can be? Owning Sub-Zero and Wolf appliances assures that your food will always stay as fresh and flavorful as possible, and you'll have the most precise, professional-grade instruments to cook it with, for delicious results every time-and a lifetime of moments worth savoring.
PRESERVE WHAT MATTERS WITH SUB-ZERO
FRESH FOOD MATTERS
As long as there is Sub-Zero, food's goodness will stand the test of time, as will the beauty and performance of your kitchen. Built and tested to the highest standards, Sub-Zero is more than just refrigeration. It is a food preservation system, with almost 70 years of innovative thinking behind it.
DISCOVER SUB-ZERO REFRIGERATION
PRO 48 REFRIGERATION
Think of the PRO 48 as an 800-pound monument to food preservation – equal parts sculpted metal design statement and culinary secret weapon. Freezer on the left. Refrigerator on the right. High performance through and through.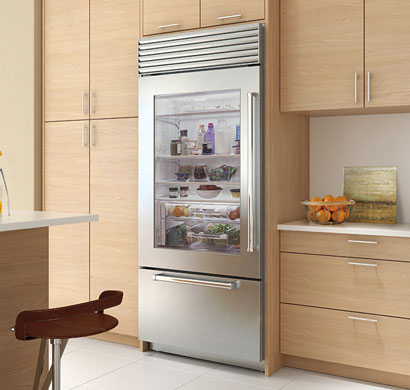 Built-In Refrigeration
Sub-Zero pioneered the concept of full size built-in refrigeration, blending its iconic refrigerators into the world's most beautiful kitchen designs. Choose the classic stainless steel Sub-Zero look, or a panel-ready model for a custom finish. The full size built-in line offers a wide variety of sizes and configurations, and every model accommodates four distinct design approaches: stainless, overlay, flush inset and framed.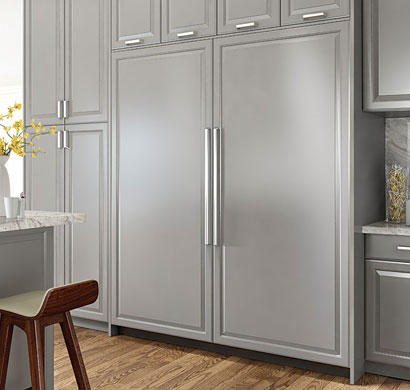 Integrated Refrigeration
A disappearing refrigerator? Sub-Zero perfected the concept. Its integrated units have no visible hinges or grilles, making it possible for your refrigeration to be indistinguishable from other cabinets and drawers around it. In over 30 sizes and configurations, integrated units can be customized to fit seamlessly, beautifully into any kitchen design.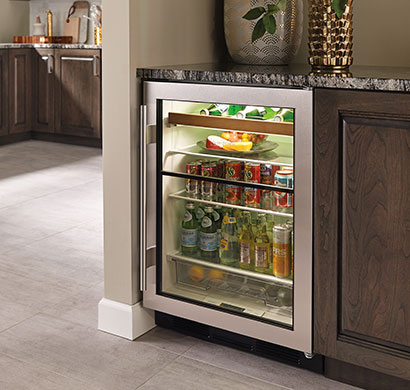 Undercounter Refrigeration
Whether you choose integrated drawers, beverage centers, undercounter refrigerators or ice makers, our units fit in easily, seamlessly with the flow of your home, and the way you live.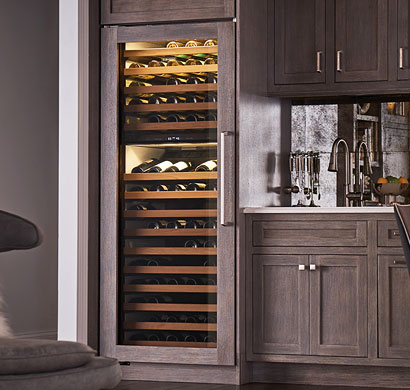 Wine Storage
Fine wine is an investment too valuable and beautiful to be confined to a dusty cellar. Sub-Zero wine storage units act not merely as coolers but as guardians against heat, humidity, light, and vibration – the four enemies that can rob wine of its complexity and character. Available in three widths, from 18" to 30", with 46 to 147-bottle capacity.


WOLF CONQUERS ANY CULINARY CHALLENGE
PREDICT DELICIOUS
Enjoy a lifetime of adventurous, more satisfying cooking. Wolf distills legendary professional heritage, power and finesse into cooking equipment whose precise control ensures the dish you have in mind will be the dish you bring to the table.
EXPLORE THE WORLD OF WOLF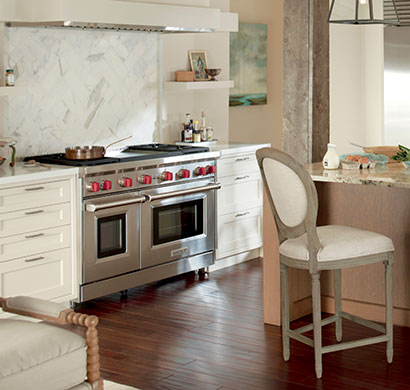 Gas Range
You've cooked with gas for years. But never with this kind of precision and power – perfected by Wolf through over eight decades in professional kitchens. Dual-stacked sealed burners deliver powerful highs down to delicate lows, while the convection oven provides the moist heat so beloved by bakers.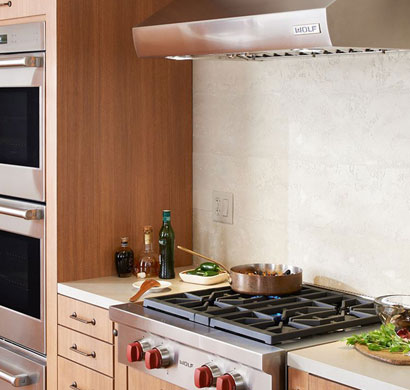 Cooktops or Rangetops
Looking at a Wolf cooktop or rangetop can make your heart beat faster, with their sleek, streamlined designs. Then, use any of them just once and the real passion ignites. Gas, electric, induction – whichever you choose, you get the professional control from high end to low end that lets you cook with confidence, and ensures delicious results.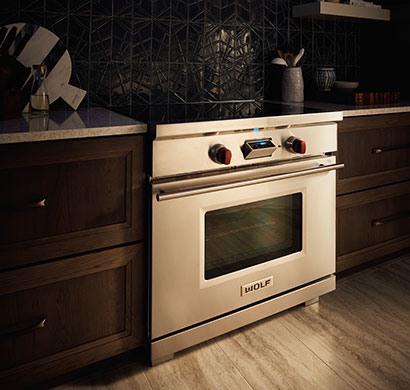 Induction Range
Wolf induction ranges give you a cooktop with incredible speed and control – boils water faster than gas, and has almost instantaneous temperature control, yet also gives you ultra-low, steady simmers and melts. Down below, the famed Wolf dual convection oven bakes and roasts with reliably even heat.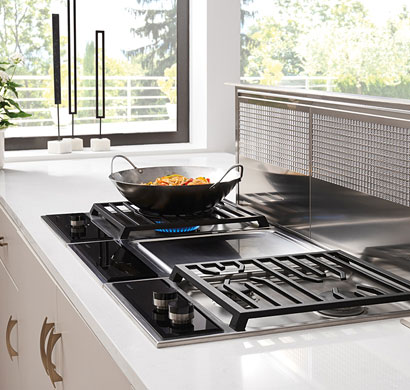 Module Cooktops
Turn any countertop into a cooking area. Even add specialty functions alongside a full-size countertop or range. Combine modules to create a custom cooktop. Think asparagus in the steamer. Bison burgers on the grill. Hot Szechuan wings sizzling in the fryer. Each module perfectly complements Wolf ranges and ovens and delivers equal performance.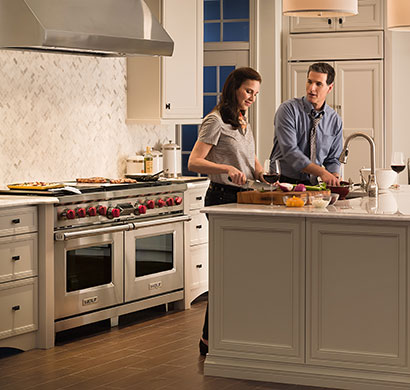 Dual Fuel Range
Discover a new world of cooking – the best of two worlds, actually. Topside: Wolf gas cooking in all its glory, with the power and control of dual-stacked, sealed burners. Below: that marvel of cooking technology, the Wolf dual convection electric oven, with two fans and four heating elements for consistent heat across all racks.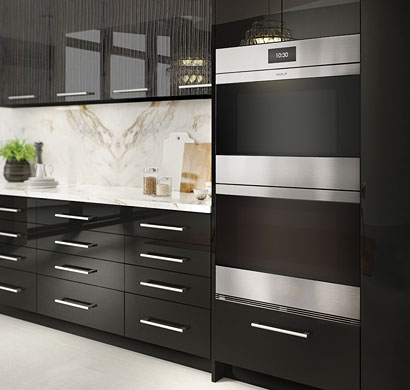 Built-In Ovens
The ovens that took the cooking world by storm are now available in more options than ever before. Alongside the classic E series, noted for smart looks and smarter cooking technology, Wolf now has added the M series ovens with innovative new features and four design styles. Then there's the convection steam oven – a sophisticated take on a traditional European way of cooking that prepares almost any dish, quickly and deliciously.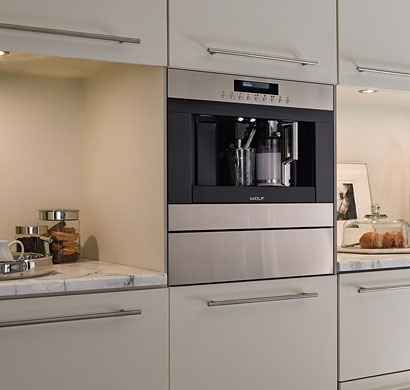 Coffee Systems
With the Wolf coffee system, make professional-quality brewed coffee, espresso, cappuccino, latte and more, precisely to your taste, from real coffee beans, with just the touch of a button. Install it anywhere in your home or office – no plumbing required.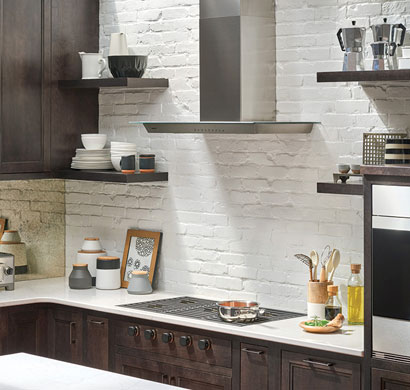 Ventilation
What's your taste in kitchen design? Rustic? Ultra-contemporary? Somewhere in between? Wolf's array of ventilation products – wall hoods, island hoods and downdrafts – includes precisely what you're looking for in appearance, performance and design.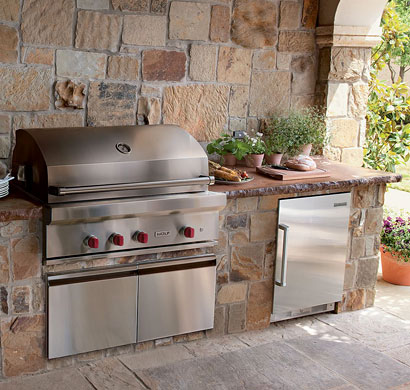 Outdoor Grills
Wolf outdoor grills solve the problem of imprecise heat control that can make grilling such a hit-or-miss proposition. Sear steaks and chops, grill fruit, even smoke trout or bacon – you can do it all with confidence. Sculpted in double-wall stainless steel and heli-arc welded for seamless strength, Wolf outdoor grills are engineered and tested to perform beautifully for decades.
VISIT A SUB-ZERO WOLF SHOWROOM
The Sub-Zero and Wolf Showroom is the best place to freely explore ideas for your new kitchen. Here it's all about hands-on planning and learning.
You're Invited