FRANKE - MAKE IT WONDERFUL
For those who are truly inspired by cuisine, the kitchen is the center of your home. And the center of the kitchen is where you work, share and entertain. Today's kitchen is a hub - a gathering place in your home and a venue for memorable moments. Franke brings open-concept and multi-functional integrated systems that help bring style, convenience and craft into your kitchen. Franke want you to experience the pleasures that cooking, eating and entertaining in a kitchen fitted with Franke products can bring. And that's what inspires us to Make it Wonderful.
INNOVATIONS THAT TRANSFORM YOUR KITCHEN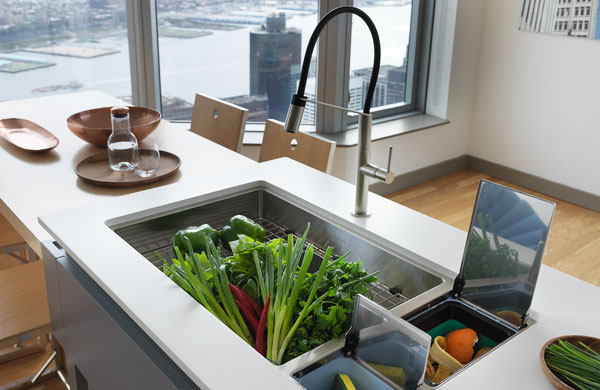 The Chef Center
The Chef Center allows you to transition easily and instantaneously from prep to rinse to clean to compost, all with ergonomic efficiency and style. With Franke's integrated sink ledge and integrated bins for storage and compost, the Chef Center makes fun and functionality go hand-in-hand. And everything is right at hand: a glass cutting board, removable compost bin, roller mat, drain board, colander, and a sink grid that rests on the sink ledge to raise your work surface or sits on the bottom of the sink to protect it from scratches.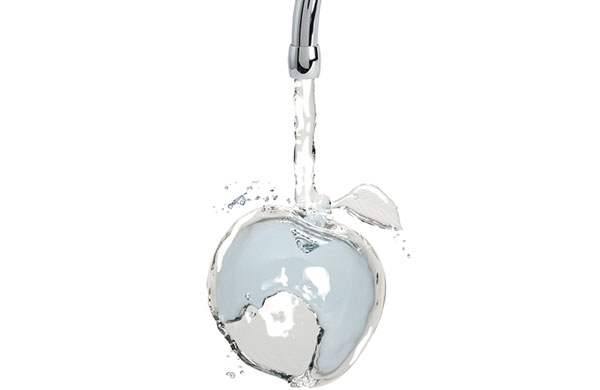 StillPure Franke Filtration
Water isn't just something that comes out of the tap—water brings life to your kitchen. As the cornerstone of healthy living, properly filtered water is just as important for preparation, cooking, and cleaning, as it is for drinking. Only Franke StillPure® Filtration, with the aid of Bluetooth™ technology, gives you the confidence that every drop is as pure as possible, so that every single drop will be wonderful.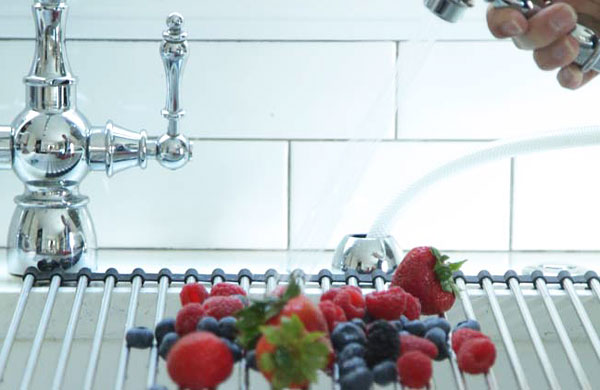 Universal Roller Mat
A whole new way to prepare, cook, serve, and clean. Franke's Universal Roller Mat rests securely on the countertops over most sinks and provides the perfect space for rinsing and drying fruit and vegetables. With its dishwasher safe, stainless steel and food-grade silicone construction, it can also be used as an over the sink surface to thaw meat and fish, or to roll sushi! Over the sink it can support up to 40lbs. When not in use it rolls up easily and can be stored out of sight.
WONDERFUL SOLUTIONS FOR YOUR HOME
PESCARA COLLECTION
Inspired by Italian simplicity and style, the Pescara Collection delivers flexibility and flow. Pescara faucets feature a level of functionality that maximizes usability for the home chef. The clean lines and generous dimensions of the Pescara sinks create a luxurious atmosphere for the ultimate kitchen.
ABSINTHE COLLECTION
Oriented on current trends in design, the combination of transitional style and sculptured form provides sleek aesthetics and beauty across the entire range. The Absinthe faucet is a unique statement piece that will stand out in any kitchen.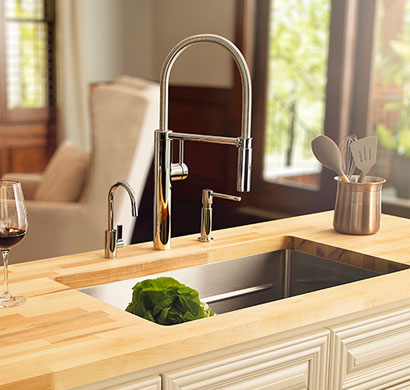 Kitchen Collections
Franke offers several product series as complete collections from sink to soap dispenser so you can have a cohesive designer look throughout your kitchen. The following series have a complete product offering available: Farm House, Planar 8, Pescara, Orca, and Cube.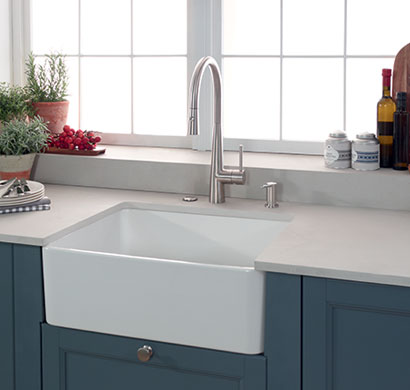 Fireclay Sinks
The perfect blend of nature and design, fireclay is made of liquid ceramic, which is then fired to create a material that feels incomparably smooth and is tremendously hard-wearing. Applied with a dirt-repellent finishing polish which means that any mess, tea or red wine stains can simply be wiped with a little soapy water. Whether you prefer classic or modern design, you will simply love the delicate shapes and expressive colors of a Franke fireclay sink.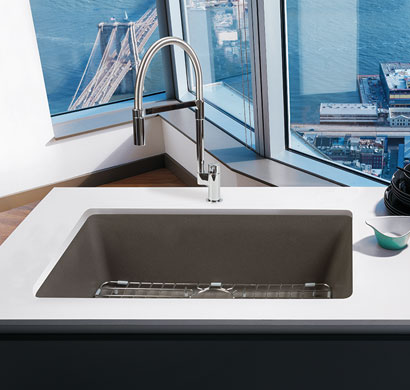 Granite Sinks
Franke granite sinks are elegant and bring a natural look into your kitchen. Composed of 80% quartz sand and 20% very hard acrylic resin, Franke's hard-wearing granite brings a lifetime of beauty. Cleanliness is an ingredient in every recipe, which is why Franke granite is treated with Sanitized®. Silver ions embedded in the granite material reduce bacteria and microbe growth by 99% and that means better hygiene and easier clean-up.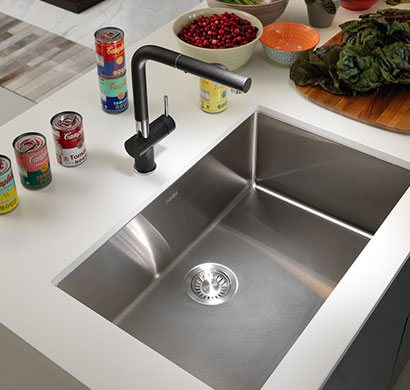 Stainless Steel Sinks
There's stainless steel and then there's Franke stainless steel that began in 1930. Franke stainless steel sinks are made from premium quality chrome nickel steel composed of 16-18% chromium for shine, giving them stunning beauty while making them highly resistant to stains, rust and corrosion and providing maximum durability. From classic style to modern you'll discover elegant design and exquisite craftsmanship without compromise.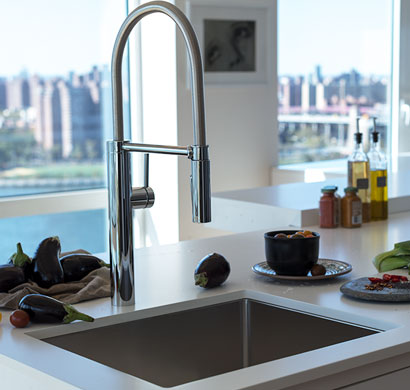 Faucets
The faucet is one of the most constantly used items in your kitchen so Franke places a huge importance on creating products that stand the test of time and make your kitchen a more wonderful place to cook and entertain. From extravagant to purist. From satin nickel to polished chrome. Whether you prefer a flexible, pull-out head or integrated water filter, the Franke faucet range meets every need in every kitchen.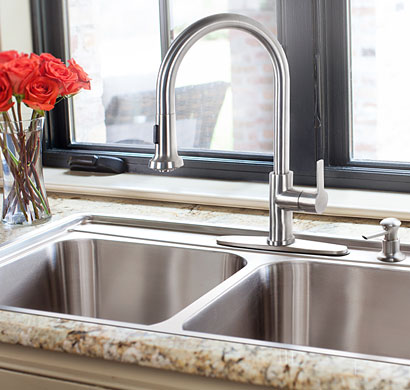 Fast-in Sinks & Faucets
Franke Fast-in® is a revolutionary, industry exclusive installation system that anchors the sink firmly to the countertop without the need for clamps, fixing rails or screws. Pre-attached Fast-in clips 'click' the sink firmly in place, allowing you to quickly install the sink without tools. The sink is simply dropped into the prepared cut-out and the unique one-way gripping anchors under the rim fix the sink firmly in place.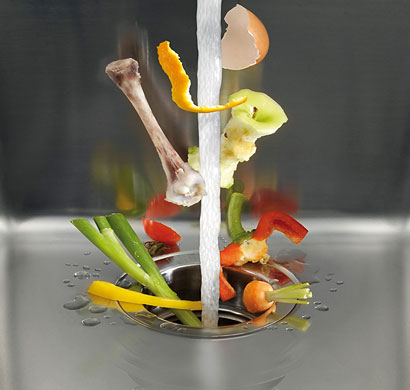 Garbage Disposals
Cleaning up after meals gets a whole lot easier with a state-of-the-art waste disposer from Franke. These energy efficient and environmentally friendly waste disposers are superior in every way from price to performance. The Bio Shield Antimicrobial agents molded into the internal components of the disposers inhibit the growth of bacteria and reduce odors, while a sound insulated shell keeps them quiet. Now you can safely and hygienically wash food scraps away.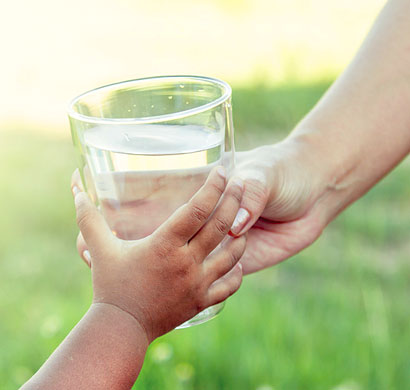 Filtration
Franke offers everything you need for healthier, cleaner water. Their filters improve the taste, odor, and color of water found in your home by removing harmful bacteria, parasites and cysts, chlorine and lead.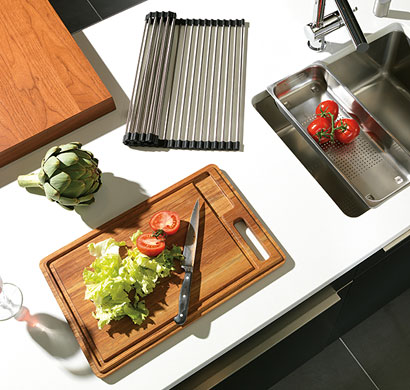 Accessories
Franke's kitchen accessories are intelligent solutions that turn your sink into a wonderful workstation. Our kitchen tools are made to deliver premium service. Cutting boards, sink grids, roller mats and more - all working together to give you the perfect environment for food preparation, serving and clean-up. Several accessories are tailor-made for your Franke sink to ensure a perfect fit..
Get the Recipe
MAKE YOUR KITCHEN THE MOST WONDERFUL PLACE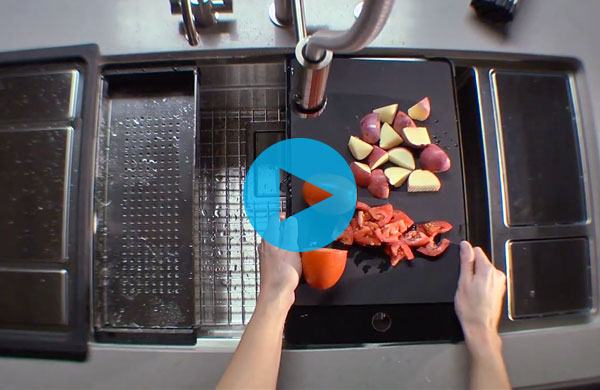 The Chef Center is a new concept that transforms the sink and simplifies cleanup as a complete kitchen solution.
Watch the Video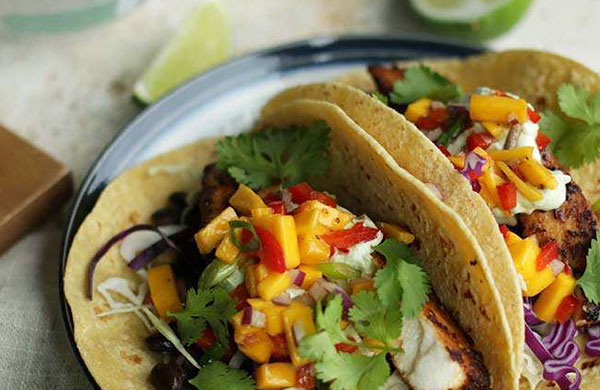 Try this featured recipe from Franke and be inspired to share it with your family and friends.
Get the Recipe